Paramount In-Floor cleaning and circulation systems work automatically to reduce maintenance time for your swimming pool and spas and maximide your enjoyment!
---
The patented pop up cleaning jets are nearly invisible, so you can avoid unsightly robotic cleaning devices and hoses in the pool as well avoiding the hassle of moving these bulky devices in and out of the water every time you want to swim.
Enjoy the clean, beautiful look of your pool and put your precious free time to better use – like enjoying your pool with family and friends!
With a Paramount In-floor cleaning and circulation system your pool will always be "swim-ready".



Water Valve Automatically Directs Flow to Nozzles

The automatic Water Valve functions as the hydraulic brain of the system, directing a powerful flow of water to each set of cleaning nozzles and is 100% pressure safe.




ROTATING POP-UP NOZZLES SWEEP POOL DEBRIS

Rotating cleaning nozzles sweep debris off pool floors, steps and benches towards and into the optional debris removing MDX-R3 debris drain and skimmer.




MDX-R3 DRAIN REMOVES DEBRIS

The optional MDX-R3* debris drain effectively removes large debris from the pool and into the containment canister. The SDX2* offers an additional layer of anti-entrapment protection and handles additional suction requirements.




LARGE CAPACITY DEBRIS CANISTERS

Build your pool with the optional Equipment Side (EDC) or Deck Side (DDC) debris containment canister to collect large debris before it reaches the pump basket, reducing stress and keeping the pump running efficiently.




VENTURI SKIMMER COLLECTS SURFACE DEBRIS

The optional eco-friendly ParaskimV Venturi Skimmer features enhanced surface skimming even at low pump speeds, a large capacity basket and increases debris removal at the MDX-R3 floor drain.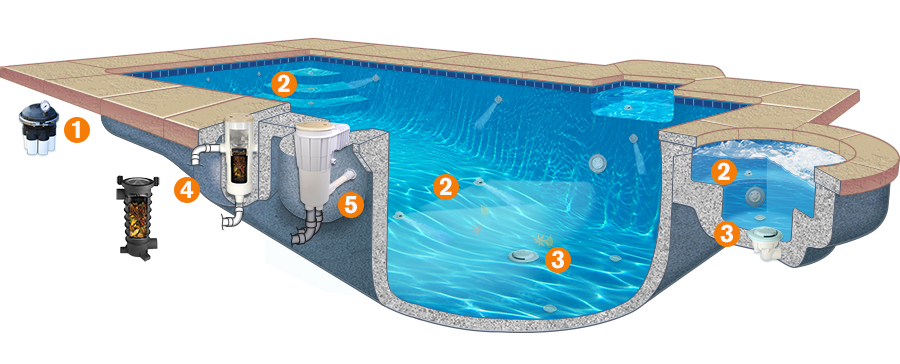 ---